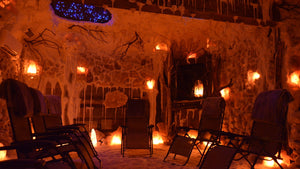 We have
Crystals & Stones Galore
Visit us at
6429 Transit Rd in East Amherst
AURA salt cave and wellness offers services unique to the alternative health and wellness community. Our focus is on all natural and holistic services for overall well-being of mind, body and spirit. Our mission is to offer a natural, holistic and calm environment where treatments are used to create a safe, drug-free alternative to provide relief and improve overall wellness for all ages.
Our shelves are stocked with Himalayan pink salt products, New Age and Metaphysical items including gemstones and crystals, CBD (teas, tinctures, capsules, topicals, waters), essential oils and diffusers, bath and body products, and much much more!
Besides all of that, we have 150+ loose leaf teas, teaware, loose bulk herbs, honeys and more! We strive to always bring in fresh and new product lines to keep things fun and exciting!
We would be happy to discuss any custom needs such as tea starter kits for corporate gifts, wedding and party favors, client/customer give-a-ways or anything else you may need. We do all of our label printing and packaging in-house so we can easily add your logo or even a special message.
We have $7 flat rate shipping to the US Mainland (some of our heavier / larger items are excluded from our flat rate offer) and we also offer local delivery and curbside pick up!

Please note the information throughout our website has not been evaluated by the Food and Drug Administration. Our products are not intended to diagnose, treat, cure, or prevent any disease. For educational purposes only.